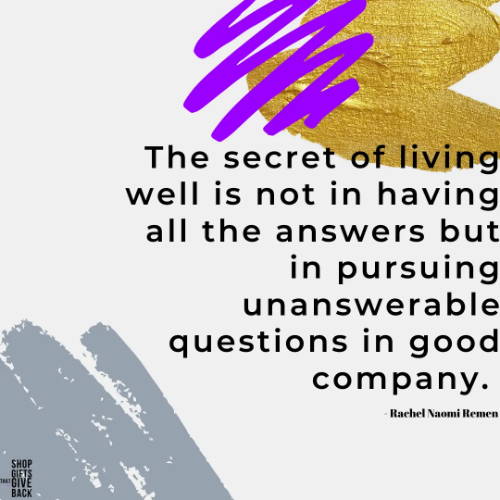 🌟Community 👯‍♀️👯‍♂️ 📣📣
This is a shout out to the peeps in various social good communities, brand partners, supporters and friends that have helped me on the journey to creating the Sparkle + Conquer brand and the 4000th iteration of this passion project to now create the online version so I am able to help more people gift for good with the curation of ShopGiftsThatGiveBack.com to make it easier for you to give back and gift with purpose alls the time for the peeps that have no time.
✅❌ It's been a lot of trial and error along the way and when I saw this quote it totally hit it on the head. You can't expect to know all the answers when you're wandering unknown waters and it's the people in these communities and the pro social entrepreneurs and other biz professionals that have been kind enough to help me streamline the thought process, build a product by feedback from the people I want to serve most, and those peeps my friend IS YOU!
🤯 It truly helps to get outta your own head and reach out to people that have already been through a start up process and even people that had never even heard the term 'social good' have helped me find the answers to the never ending list of questions that I have!
💟Help me help YOU!
You're my good company and I would LURVE to know your go-to social enterprises you shop at for gifts. 🎁 Drop a comment below, send me a DM or just tag @sparkle.x.conquer on your fav biz account so I can check em out - I'm always on the hunt for more social good brands to partner with to make ShopGiftsThatGiveBack.com the best gifts for good resource and gift discovery platform for you! 🌎🖥️
💫Keep sparkling, Sez x