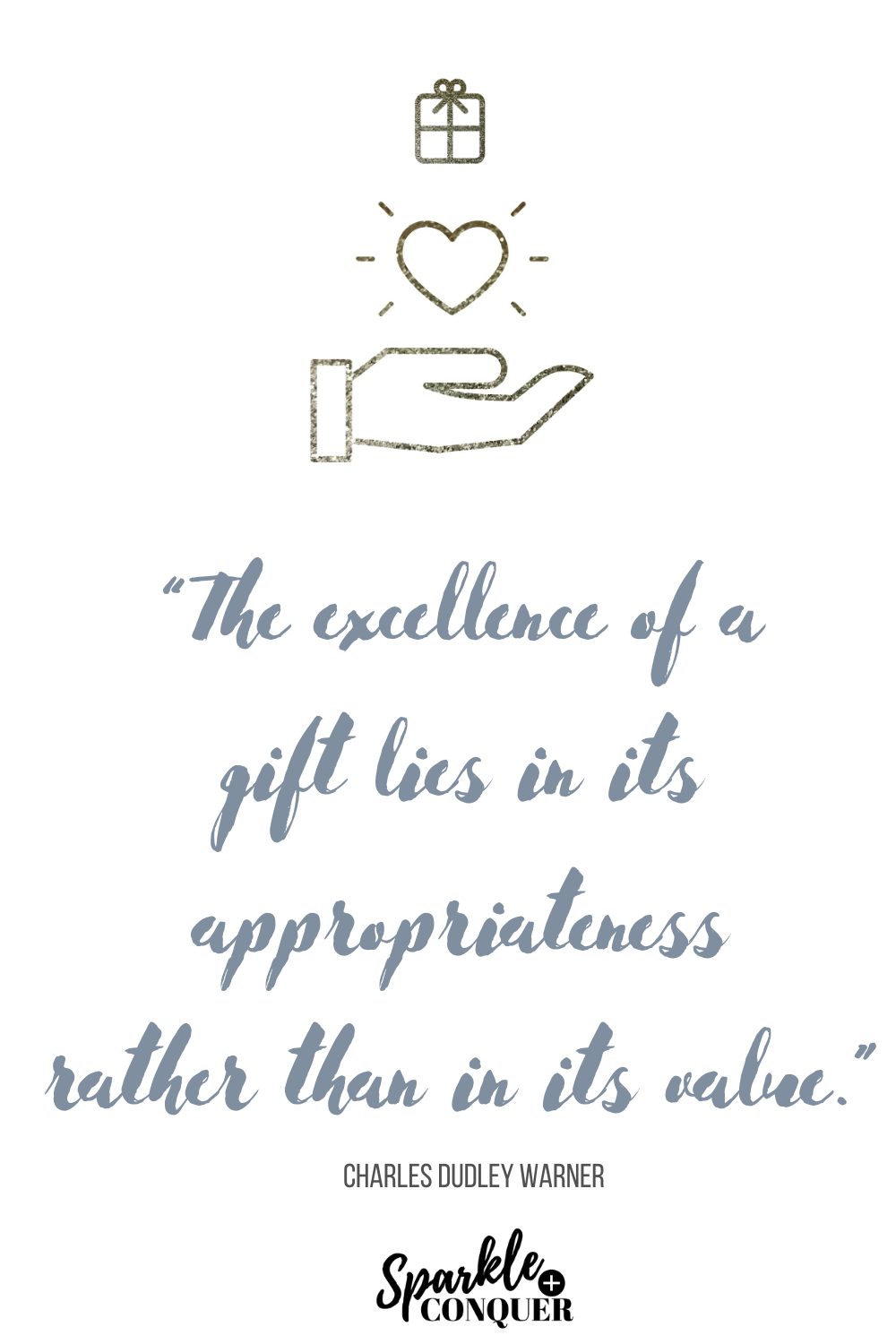 🎁 I love this quote, it really captures that it truly is the thought, meaningfulness and appropriateness of a gift that makes it so special not the price tag.
You know how it goes, life gets in the way and we find ourselves panic gift buying something of extreme monetary value in hope it'll disguise our unpreparedness = thoughtlessness....
Let's make a game plan to avoid
over spending
and under thinking
gifts this year.
First - download our free monthly Gift Planner.

Super simple - grab a cuppa, a pen and take some time to see what our gifting obligations look like and start writing them down for the whole year, not the rest of the year the whole year from now.
Include every celebration you can think of!
The Birthdays of the:
fam bam

BFFs

In-laws

Out-laws

Kids posse (I usually estimate my 2 girls will attend 10 birthday parties every year, so that's 10 x 1-3yr old parties and 10 x 4-6yr old parties....yikes, I'm tired just thinking about that!)

milestone Birthdays (you had several decades warning it's Gramps 80th, so you kinda have no excuse not to be prepared)
What Anniversaries or special days do you want to show your peeps how you feel?
Wedding/Together anni

Mothers / Fathers Day (if you're like me, you'll be responsible for gifting not just your own parents but the other halves parents as well so don't forget to include allls the gifts your also not meant to be in charge of...but are)

Weddings? Usually you'll know the Save The Dates, put em in or if they aren't this year, add a note and you can remember to add to your Gift Planner for next year!

Friendversaries (how tingled with love will your BFF feel when you surprise her with a little momento to celebrate 10 years of friendship?! Write it in lady.)
By now, you've probably finished your cuppa and moved on to wine. I'll admit, this part of listing all the celebratory occasions is emotionally exhausting BUT it'll bring a new sense of ease and enjoyment through these special events.
After you've done all the hard work, you'll be able to see you have 4 x 1 year old birthdays that will happen this year why not batch that brain power and organise them all in one gift think tank session rather than getting the groans and heavy sighs 4 times a year or getting the stress sweats half an hour before the party starts and realize your still giftless....
When you are with these special people, keep your ears peeled and listen to what they are saying; do they live an eco friendly lifestyle, do they always talk about how hard it is to find affordable candles that don't smell like car fresheners, have they mentioned 5000 times how much they wish they had time to volunteer at the animal shelter... these are all clues to their values and it's all about listening for these loud whispers and keeping note of it somewhere, that's not your overloaded brain.
Psssst if you have the exact friend I've just described - click here to land in gift-spiration heaven for a pre-filtered search in the gift directory so you can make the final thoughtful choice.
Try this for the next few months and let me know in the comments if it helped!
Did you feel like the gifts were more thoughtful, appropriate and within budget? Did you feel more calm and organized?
Happy Gifting!
Love Sez x
The best gift is giving from the heart.
— Kevin Heath