Fashion Revolution Week is coming up in April and we wanted to share our fav fashion brands that are a great go-to resource for gifting your socially conscious gal pal or gifting yourself some sparkling bling.  
Challenging the culture of the fashion industry by creating transformative opportunities for women.
SOCIAL GOOD BRAND FEATURE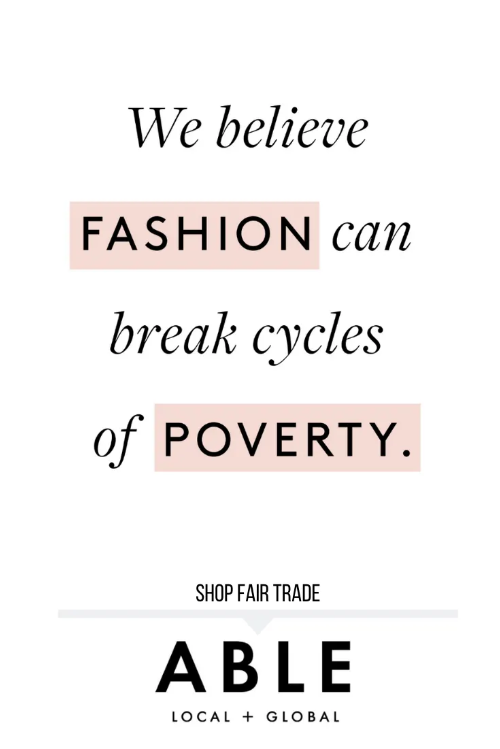 ABLE is an ethical fashion brand that employs and empowers women as a solution to end poverty.
We've been a long time fan of ABLE (formerly FashionABLE) who provide so many avenues for a positive social impact that you are drawn to be part of helping them give the opportunities to empower those that need it.
From everyday apparel to shoes, jewelry and personalized accessories, you'll be sure to find a gift for him or her (or you shhhhh).
We wanted to share their passion for empowerment with you and highlight the extraordinary effort they have now created to improve and be recognised as a pioneer in promoting transparency in the fashion industry by creating ACCOUNTABLE.
What is ACCOUNTABLE?
Connecting brands and consumers in trusting relationships through unprecedented transparency.
INVESTING IN WOMEN
Women comprise 95% of our staff at ABLE, but globally they often hold the lowest-paid, least-secure jobs. Yet we know women invest twice as much of their income into their families compared to men. When a woman is economically empowered, her children and community thrive, making her crucial to eradicating poverty. Credit ABLE.

Let me know what you thought of ABLEs curated Gift Guides for the creatives to the jet setters to the homebodies.

Whatever your scribe you can contact me wherever you like to hang out or leave a comment below!
Cheers, Sez x